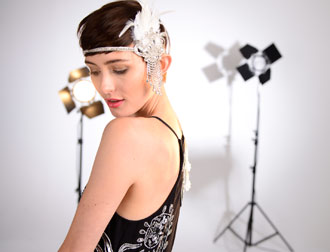 Gatsby Glamour
It is pretty hard not to be seduced by the glorious glamour and raucous partying played out in The Great Gatsby so we have dedicated this section of Rock My Vintage to Gatsby style fashion and are giddy at the result. We have a gorgeous gaggle of gatsby dresses from metallic flapper dresses to pretty pastel beaded dresses perfect for making that show stopping, top of the stairs entrance! But gatsby dresses weren't all about beading, we have the perfect gatsby style dress for whatever embellishment tops your lust list - with feathers, lace, fringing and silken shimmer to tantalise! Gatsby dress sorted, you will need to add a delicious dash of deco to complete your Daisy Buchanan look...
Read more
We have a fabulous collection of gatsby style jewellery bursting with art deco design and a totally twenties twinkle. We have a lush line up of gatsby style handbags with both geometric and floral designs to keep every gatsby girl happy with their art deco arm candy. For the final frosting on this most decadent of styles we have gatsby hairpieces and art deco hair bands to make sure your tresses don't let your Gatsby style down! To be totally honest, we dont think there is a bigger or better selection of Great Gatsby outfits out there so, pop those corks, get practising your Charleston and get ready for the roaring twenties to take over your wardrobe.
Read Less
There are no products matching the selection.