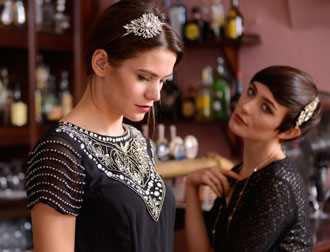 Art Deco Jewellery
Stop the press! Looking at this fabulous collection of absolutely awesome Art Deco jewellery makes us want to Charleston in our seats (is that even possible?)! The pure delight that deco design causes is making us come over all giddy, and this arrangement of 1920s style jewellery shows us exactly why deco did the most decadent looks, and we love that it can still rock its way through the modern day too! If you've been invited to a Gatsby themed party, you lucky thing, you're in completely the right place to finish the look with this treasure chest full of art deco bracelets, twenties necklaces, deco rings and beautiful Zelda worthy brooches! If you really want to stack up the brownie points then get searching for a delightful deco gift for your bestie too...
Read more
However, flapper style jewellery is not just for teaming with your beaded flapper dress, as it also looks incredible with anything from jeans and tee to a festival maxi at this summer's festivals. So, whether you are channelling Daisy Buchanan or just adding a frill of flapper to your look, this stand out collection of Art Deco jewellery will have you speakeasy stylish in no time. More is more with art deco jewellery, so don't be afraid to wear multiple pieces of flapper jewellery to really feel like a fabulous flapper girl. Now, let's get practicing those jazzy moves!
Read Less
There are no products matching the selection.