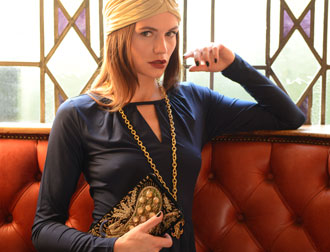 Necklaces
Hey, we see you rubber neckin' our collection of vintage necklaces and vintage style necklaces, and we don't blame you! From classic pearl strands, to more edgy, chunky gold chains, our retro necklace collection spans the decades for the ultimate vintage offering. We've got gorgeous art deco necklaces to match your flapper dress, kitsch 1950s pearl necklaces for your inner pin up girl, and bohemian beads for when you're rocking the laid back 1970s look. We've even got some oversized 1980s beauties for real vintage statement style. If you're stuck in a style rut, take a look at our unique vintage necklace range for some major style inspiration and an instant outfit upgrade...
Read more
We're most excited about our original vintage jewellery, boasting names such as Dior, Swarovski and Moschino to really tempt you. If on-trend and up-to-date is more of your thing ,make sure you check out the more contemporary vintage style necklace selection with fashion conscious stashes from Tatty Devine and Junk Shop – all of which have a little vintage inspo, of course! Be nice to your neck and decorate with care. Remember, retro necklaces such as these also make fab gifts for your loved ones.
Read Less
There are no products matching the selection.