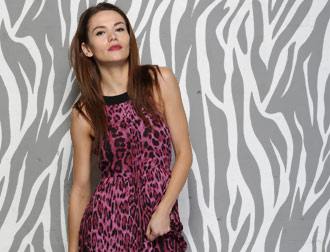 Animal
Bring out the tigress in you with our wild animal print fashion collection! For the girl who likes to bring some urban jungle to her wardrobe our fab selection of animal print clothing will add colour, interest and personality to your look whilst remaining true to vintage style. We have a menagerie of animal print dresses in a host of vintage styles including leopard print dresses, tiger striped dresses and even giraffe print making an appearance! There is something undeniably glamorous about an animal print so our printed vintage dresses will have you red carpet ready in an instant. If you are or know an animal lover then our animal themed present collection of animal jewellery will have you giddy as a kipper...
Read more
We have jewellery featuring rabbits, squirrels, birds and even dogs to get your Dr Dolittle on. If you look closely you can even spot fox print scarves, horse print dresses and the occasional piece of fish, tortoise and owl jewellery too. All of our animal gifts will make the most thoughtful and characterful pressie on that special day. If full on tiger print is not your thing our accessories can add a hint of the wild without scaring the children! Our animal print scarves are fabulous in either fur print or featuring the animal themselves adding an exotic touch to everyday looks. These fun printed scarves also provide a present saviour for the girl who loves to experiment with colour and prints. So, show your appreciation for wildlife and rock some animal themed fashion - you will be totally on trend too!
Read Less
There are no products matching the selection.