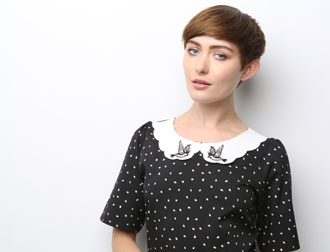 Bird
We are all a flutter over our incredible bird print fashion collection! Our feathered friends are a really simple but effective way to add interest and colour to your everyday outfits so we have a flock of fabulous bird themed pieces to send you swooping into the fashion charts. If you bestie loves a budgie or your mum loves a magpie, our collection of gifts for bird watchers is all you need to ruffle some happy feathers this season. Let's start with our bird print dresses in a host of vintage styles. We have bold bird print proms and full length bird themed maxi dresses to add character and individuality to your wardrobe. If wearing a full printed dress is too much then take a beaky peek at our bird print scarves - the perfect addition to your casual wear and the ideal bird gift for friends and family too...
Read more
We have swallow print scarves, pretty autumnal bird printed scarves in blues, pinks, greens and neutral tones all wonderful bird themed presents. We have a feather friendly collection too packed with soft boho looking feather necklaces, feather rings, feather print scarves and even feather print handbags for a hippy chic look that will never go out of style. Our final offering comes in the form of bird jewellery and you will certainly be a magpie when you have had a little look. There are silver bird necklaces with a gold bird necklace alternative. We have loads of flying bird earrings, swooping bird bangles and even pretty bird brooches to bring a bit of birdie bling to your look. You don't have to be a bird watcher to appreciate the beauty of a bird print so add one of our bird accessories and feather accessories this season to see your new look take flight.
Read Less
There are no products matching the selection.