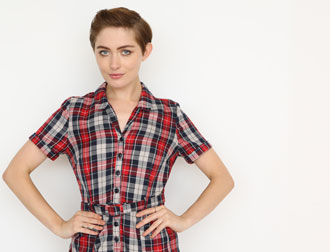 1940s Dresses
Despite the impact of the world war, the forties provided fabulous bold floral and ethnic prints and incredible tailoring for 1940s dresses that worked for both day and night. Glamour was still an aspiration but a more practical influence was present and reflected in these vintage dresses. Our fab collection of original 1940s dresses and 40s style dresses is a wonderful snap shot of Blitz glitz with tip top tea dresses, on-trend heritage print day dresses, sexy silken evening dresses and floral print midi dresses. This flattering collection of ladylike dresses makes for a versatile wardrobe, taking you from the office to the cocktail bar and beyond. For afternoon tea, go for a smart tea dress with a popping print...
Read more
Vintage inspired brands such as Emily and Fin and Sugarhill Boutique really rock the era with their retro prints, whilst our go-to retro brands such as Trollied Dolly and Eucalyptus have an authentic look with their classic 1940s shapes and super cute button detail. This season our vintage inspired 1940s styles offer us some kitsch print and polka dots to combine runway trends with a vintage twist. We're particularly doolally for our fun print 1940s dresses, which are packed with bold tones to inject fun and brightness into your everyday wardrobe.
Read Less
There are no products matching the selection.