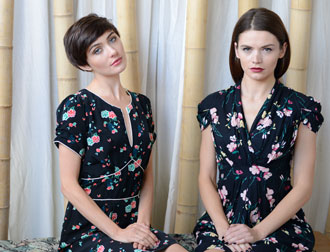 Tea Dresses
We are firm believers that you should always make time for tea and if you can sup in a delightful vintage tea dress, then all the better! Whilst these wonderful vintage printed dresses used to be confined to tea pot toting in the 1940s and 1950s, these days the tea dress is our go-to for all things girlie, pretty and prim. This means tea dresses win in the versatile, more-wear-for-your-wonga dress stakes. You can rock your vintage tea dress at anything from picnics and outdoor cinema screenings to a summer wedding or full on festival. Colourful or floral 1940s tea dresses also make the most wonderful, vintage bridesmaids dresses for the bride that wants a touch of romantic retro on her special day. What makes your tea dress so easy to wear?...
Read more
Well, we think it is down to the darling details - a cute capped sleeve making it weather hardy or perhaps the pretty prints ranging from full on petals to kooky animal and landscapes. In short, the 1940s dress is often the most interesting, conversational piece in your wardrobe which means you want to show it off throughout the season. Our vintage style tea dress collection is bursting at the hem seams with powerful prints, beautiful buttons, bonnie belts and cute collars giving you lucky ladies the best of the bunch. So, pinky fingers up, totally tip top tea dress on and remember, never "cheers" with a china cup.
Read Less
There are no products matching the selection.