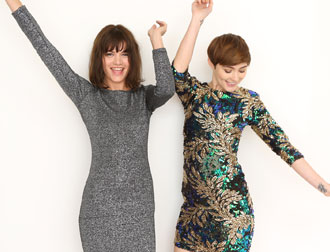 Vintage Dresses
In the midst of the throw-away fashion fad, we sometimes yearn for a dress with a bit more staying power and our thoughts immediately turn to vintage dresses. Classic, undeniably cool and bringing a hint of history to your wardrobe the vintage dress is a girl's best friend when it comes to nailing an individual vintage look. We keep our peepers peeled for vintage dresses from every era to make sure that your treasure hunt for the perfect vintage dress can be as exciting as possible. We have vintage prom dresses for the aspiring 50s pin up, vintage maxi dresses for the boho babe working blissed-out vibes and vintage mod dresses for the sixties rocker in you...
Read more
Perhaps you aren't really swayed by a particular era and you just want a stand out party outfit to wow your partner or make waves on the social scene? Our collection of vintage little black dresses is the ideal way to make a statement in something that no one else will be seen in. No one to steal your thunder and when asked, the reply "oh it's a vintage dress", will be met with envy as no one can pinch your look afterwards! Our favourite bit about picking vintage dresses, is day dreaming about where they might have been worn. The stories we create about those retro dresses dancing in ballrooms, wiggling through old school offices, twisting to ground breaking music and making the owner splendidly happy. We think that vintage is ultimately about individuality, being you and being proud to showcase your own style. A vintage dress will give you the opportunity to show people who you really are whilst looking fabulous!
Read Less
There are no products matching the selection.