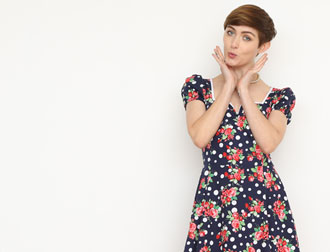 Quirky & Kitch
Vintage style fashion can be a brilliant way to showcase your personality and our quirky and kitch vintage clothing collection is an exciting way to show you sense of humour as well as your sense of style. We have a kooky collection of quirky and kitch printed dresses from novelty printed wiggles to unusual printed proms all in classic 1940s and 1950s style. Our lovely vintage dresses have a funny little story to tell with cool conversational prints from 1970s cowboys to retro lipsticks, these quirky vintage dresses will be the talking point of any party. You may not to go wild with an all over print so how about picking a piece from our kitch jewellery collection. We have wonderfully weird jewellery from Tatty Devine including ruby red slipper, geek glasses and toy dogs making your jewellery take centre stage...
Read more
These quirky necklaces, kitch brooches and unusual rings make for interesting and thoughtful presents for the girl who likes more kooky looks. If you want a kick of kitch that you can add in a flash then our quirky printed scarves are a great way to get a great look once you leave the office, updating your outfit with a flash of fun. From elephants to flamingos, we have a bonkers print that will work for you whatever you choose to wear. We like to think that life is about colour, interest and a good tale and there is no reason why fashion shouldn't be the same so be brave, be proud of your quirks and wear them for all to see!
Read Less
There are no products matching the selection.