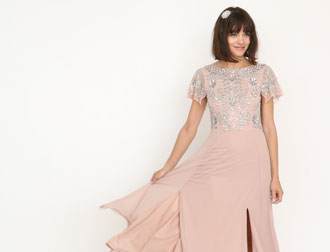 Neutral
Far from being dull our neutral fashion collection provides a fresh palate allowing you to swap and change your accessories and colour palate with ease. We have a lovely light selection of neutral toned vintage dresses in an array of cuts and styles. You may not believe it but we have a neutral dress for all occasion and with the right amount of detail to keep them exciting too! We have ivory dresses, neutral beaded dresses and even light coloured dresses with feather and lace embellishment ensuring your neutral dress won't fade into the background. Of course, the neutral coloured dress also makes the perfect vintage bridesmaid dress blending into any colour scheme...
Read more
If you already have a colourful dress then our collection of neutral accessories means that you can get the perfect vintage jewellery and vintage handbag in a neutral colour way. We have a great selection of tan and beige handbags, cream and mink scarves and even white and cream hats and gloves to complete your look. Our neutral clothing and accessories collection is the perfect way to work soft, delicate tones into your outfit without compromising on style.
Read Less
There are no products matching the selection.