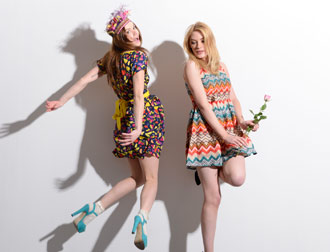 Brights
Shine bright like our collection! We have decided to brighten up your day and gather together our brightest and boldest vintage dresses and accessories allowing you to turn up the wattage in your wardrobe in a few simple clicks. Our bright vintage dresses are beacons of fashion in daring, interesting colourways perfect for lighting up a party. We have a rainbow of brightly coloured vintage dresses representing all the eras. We have bold bright flapper dresses, multicoloured maxis and popping proms to satisfy the most avid colour junkie. Whether you fancy a colour block shift dress or an crazy zig zag print our bright vintage dresses are what you have been waiting for...
Read more
Why stop at a bright bold dress? We have jam packed our collection with bright accessories and jewellery too. We have lashings of red jewellery, blue jewellery, green jewellery and even multi-coloured jewellery for the colour magpies out there. Our collection of bright accessories include bright coloured scarves, bold coloured gloves and bright hats all perfect for punctuating your outfit with a hit of hot colour. Our wardrobe of bright dresses and bright accessories has all you need to become the belle of bright coloured fashion so get your sunglasses on and prepare to blind others with your vintage style.
Read Less
There are no products matching the selection.