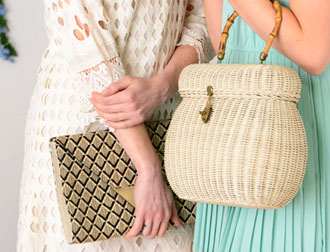 Totes
The vintage tote: the hard working handbag in every girl's wardrobe and boy does it need to be! Carried everywhere from the office to the airport, this handy handbag certainly earns its keep. With this in mind we have gathered a collection of fabulous vintage tote handbags and vintage style tote handbags to really get you going. Take your pick from 1950s vintage tote beauties to modern briefcase styles. Whether it's a small evening tote bag or a more substantial daytime shopper, make sure you get your tote working for you this season. With a choice of mock croc, leather or embroidered, our stylish vintage day bags are so chic you'll want to take them everywhere!...
Read more
We love to look back and swoon at the classic 1940s tote - we really love the ladylike styles from the era but marvel in how relevant and on trend they remain today. The ultimate in power dressing, a Mad Men style smart vintage tote bag is a staple piece to have in your wardrobe, and we've found some immaculate examples for you. Although, we love them so much that we almost don't want to share them!
Read Less
There are no products matching the selection.