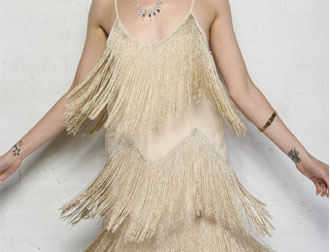 Fringed Dresses
There is no other dress detailing that sums up an era quite like a flash of fringing on a vintage dress. The fringed dress is to flapper what Daisy is to Gatsby – meant to be! The roaring twenties saw the introduction of fringing as a way to add flare and character to dance moves and as a cheeky way of disguising the fact that evening dresses had got a whole lot shorter! Our happy little collection of vintage fringed dresses is swishing its way to the top of our lust list as we practice our shimmy round the office. Each fabulous flapper dress has that wonderfully fluid shake that only a fringed dress can give but they all have a quirky design add their own hit of high end vintage style...
Read more
Perhaps you need a bit of bling in your party dress and so our beaded fringed dresses add a heavy dose of dangly delight, perfect for more formal events and eye catching style. If you prefer the classic our silk fringed flappers give a softer shimmy and more subtle dose of flapper magic. For the full on fringed diva then our gold fringed flapper dress has layers of the stuff, just in case you needed to draw more attention to your Charleston moves. Whilst some of us think of a fringe as a way to disguise or conceal, the flapper fringed dresses in the Rock My Vintage collection do quite the opposite so get ready to get noticed for all the right reasons!
Read Less
There are no products matching the selection.