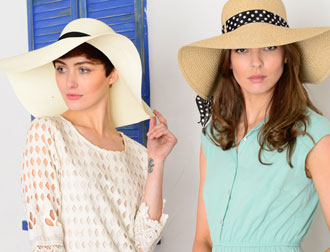 Hats
We know that you are not just a hat rack, but we believe that the addition of a vintage hat can be the icing on the cake when it comes to completing your vintage look. Whether you need the seductive slope of a cloche or wide brim secrecy of a 1970s summer hat, our hat collection will have your bonce looking beaut in no time. The detail of a retro hat can take you back to your favourite era and with a tip of your hat you will be head and shoulder above the fashion competition. With this in mind we have set out to top your topper with a millner's treasure chest bursting with incredible vintage hats...
Read more
For the Gatsby gal we have a wonderful collection of flapper hats and flapper caps for completing that Charleston look. For the chilly days we have soft felt cloche hats for cosy thirties glamour and woolly vintage lace beanies for snuggling on winter mornings. Check out our ooh la la belle berets for sixties chic or our tip top trilby for Kate Moss inspired headwear that nails the hippy luxe trend. Whatever your hat hot list, Rock My Vintage has the retro hat for your noodle that will guarantee stand out vintage style. Hats off - to us!
Read Less
There are no products matching the selection.